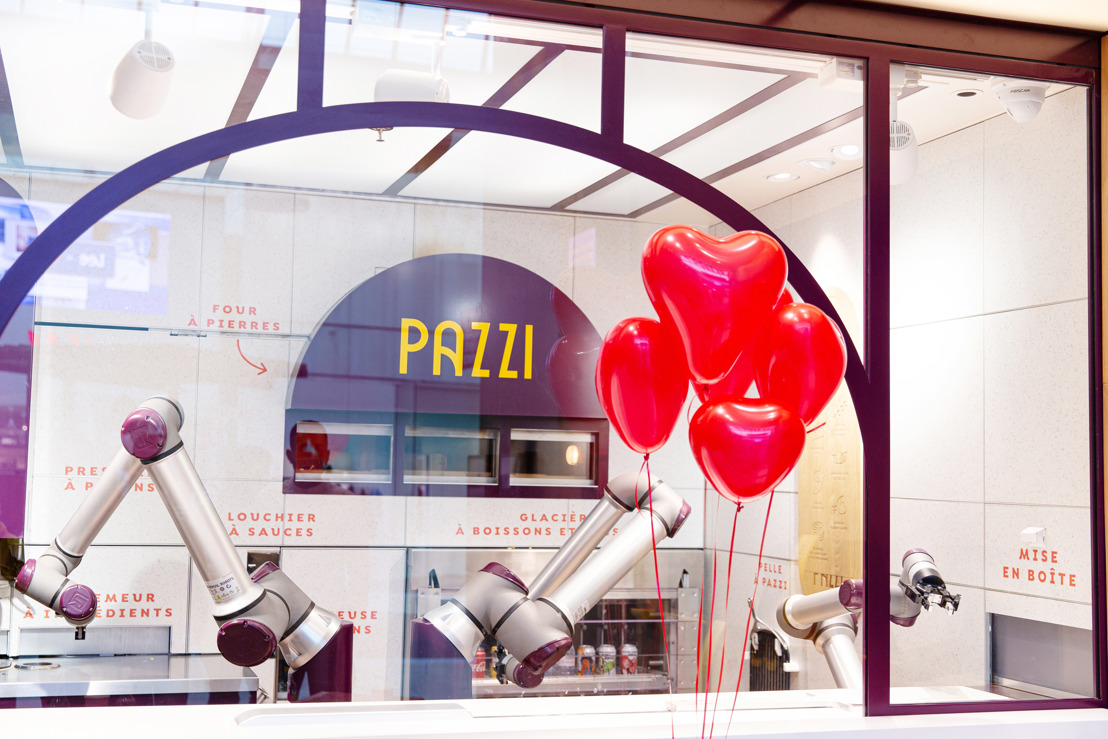 F.A.Q
Everything you should know about PAZZI
Our Mission
We prepare for our customers a high quality pizza 24/7, with healthy and natural ingredients, selected in France and Italy. And everything is, of course, cooked by our pizza robot on site!
We are also creating a new restaurant experience: the first fast food chain integrating a robot cook, and giving the customer total control over the creation of his pizza and the follow-up of his order. It's the Fast Good Food
The genesis of the project
Why PAZZI?
At the beginning, it was a simple observation made by the two founders, Cyrill and Sébastien: fast food is often disappointing. It offers bad ingredients, little information about them, not so fast service, limited possibility to personalise the dish, opening hours not adapted to the new work rhythms, and all of this causing constant dissatisfaction.
Cyrill and Sébastien, engineers in electronics and robotics, thought that technology could perhaps solve all these problems and allow us to:
Go back to the essential, the real taste of food

To eat good, healthy and fair

Personalise the product according to our desires

Experiment, share and create.
When was the project born?
In the summer of 2012, Sébastien and Cyrill, fresh out of college, sketched the first designs for the robots.
By the end of 2013, the company was born, and by the end of 2019, we opened our first restaurant in Val d'Europe.
What does PAZZI means?
It is the masculine plural of pazzo in Italian, which means CRAZY.
Pazzo can be madness, pain, love, joy, happiness, imprudence, excess, extravagance, but also unpredictability (funny for a robot, isn't it?).
In Italy, we often say that a pizza maker is a pazzo, when he does as he pleases.
This is also what we say when we see our pizza robots at work: "it's completely crazy! ".
And Pazzi is the perfect anagram for pizza!
Our pizzas, menus & ingredients
What is your restaurant menu?
We offer 13 recipes of customizable pizzas, drinks, desserts. Only the pizzas are elaborated by our pizzaïbot.
Who's elaborating your pizzas recipes?
First of all, our chef, Thierry Graffagnino, triple world champion of the pizza elaborated the dough and the recipes.
Then our pizza robot takes over and cooks in front of the customer.
What type of ingredient are you offering?
We spent a lot of time (18 months) and energy to find ingredients with taste, and the best possible agricultural chain.
Our ingredients come mainly from Italy and France. They are 100% natural, without chemical preservatives, without pesticides, and of course without GMO.
These ingredients are selected with our chef.
Our vegetables, fresh and frozen 1 hour after harvest, are organic and come from Italy.

Our cheeses are, for the most part, PDO (Bleu d'Auvergne, Saint-Nectaire ...)

Our beef is 100% pure muscle and comes from Limousin cows.

Our pork ham, 100% French, is Bleu Blanc Coeur and Clean Label.

Our fish, tuna, Scottish salmon and cod, all come from sustainable fishing or farming (M.S.C and A.S.C standards).
What type of pizza are you offering?
We offer Italian style pizzas, that is to say thin crust and with a maximum of 4 ingredients (excluding base and toppings), because we want to highlight each ingredient.
We offer three types of bases: a fresh tomato sauce made in Italy, a vegetable sauce made with peppers, and a white sauce with a unique recipe.
Finally, we have up to 4 types of toppings: an extra dose of mozzarella for the cheese fans, organic Datterino tomatoes from Italy, pesto cream to sublimate your pizza and finally caramelised onions to bring sweetness.
How is the dough made?
First of all, it includes an exceptional flour, elaborated by our chef in collaboration with the Maurey Family Mills in the Paul Dupuis Mill in Gournay en Bray (76).
The recipe is based on flour, salt, water, yeast... and olive oil and is kept secret! It was designed by our chef Thierry Graffagnino during the summer of 2017.
The dough will be made daily and locally by our teams, with a minimum maturation of 48 hours.
It is the robot that then elaborates the dough pieces, gently.
The PAZZI experience
How does it work?
As soon as a restaurant opens, customers will be able to order, either on site and on a kiosk, or through apps - delivery apps or our PAZZI app. The PAZZI application will allow them to order remotely and to pick up the order without waiting in line. It will also allow them to create their own pizza.
Once the menu is ordered, customers will be able to follow the pizza making process in front of their eyes and have a very precise idea of when the menu will be delivered (to the minute).
Prices will be set as low as possible: from 7€ to 14€ per pizza. Customers will only pay for what is on their pizza. If they remove ingredients, the price will be modified accordingly.