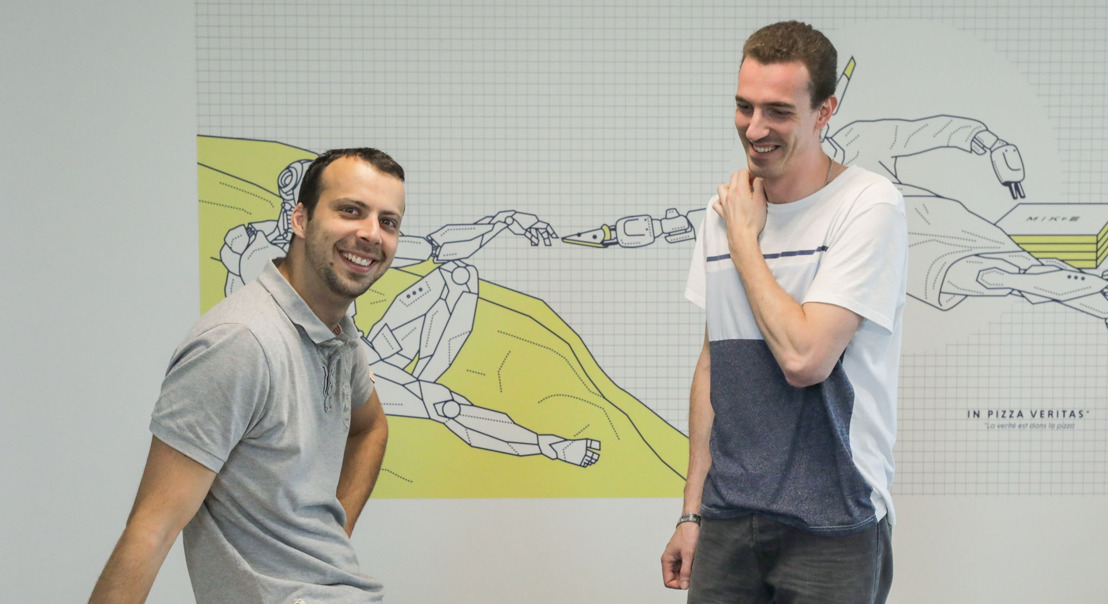 PAZZI raises €10 million Series A
Press Release June 2019
to accelerate the development of its technology and open its 100% autonomous pilot restaurant with the first pizzaïolos robots cooking unlimited recipes before the customer's eyes!
Led by the Singaporean investment fund Qualgro, which is inaugurating its first investment in Europe, it brings together the French fund Eutopia, the historical investors, Partech and daphni, as well as American and Swiss entrepreneurs from the retail and food sector gathered around The Merchant Club.
After the 2018 fundraising achieved in the American Robotic Food Tech sector such as Zume or Spyce, these investors are counting on Pazzi, a pioneer in Europe, with the most advanced autonomous technology. ​ Indeed, automation by robotization has become a major challenge for the sustainable development of the restaurant sector in the coming years* and a response to the ever-increasing consumer demand for more quality, safety and food traceability.
*Food robotics Market to Hit $3.1B by 2025 (report Meticulous Research)
The objectives of this fundraising for PAZZI
With ​ this ​ new ​ fundraising, ​ Pazzi will ​ accelerate ​ its ​ technological ​ development ​ by ​ strengthening ​ its ​ R&D ​ teams and ​ industrial ​ partnerships ​ for ​ the ​ manufacture ​ of ​ the ​ next ​ robots ​ and ​ open ​ its ​ first ​ restaurant ​ in ​ the ​ Paris ​ region ​ in September at the Val d'Europe shopping centre (owned by the Klépierre group and located in 77), one of the leading shopping centers in France.
This opening will be the starting point for a global deployment from 2020, in concession/licence mode, with partners such as commercial property companies, food halls, airports, universities and ghost kitchens.
PAZZI – The taste for Invention
Pazzi was born from the imagination and patient R&D work (5 patents obtained) of two young French inventors, Sébastien ​ Roverso ​ and ​ Cyrill ​ Hamon, ​ engineers ​ passionate ​ about ​ robotics ​ and ​ electronics ​ since ​ childhood, ​ who crossed paths with Philippe Goldman, former L'Oréal and now CEO. The 15-person team has been working since 2017 with chef Thierry Graffagnino, 3-time world champion of pizza, who signed the dough and recipes for pizzas, but above all helped engineers to teach robots to replicate the movements of pizzaiolos, in order to make the robotic experience visible and unique.
PAZZI – A New deal
PAZZI mission is broader than just being a "pizza robot company."
The Founders mission is to use the most advanced technology in robotics and automation to provide a plug-and-play solution to tackle Hospitality's main challenges: sourcing quality ingredients, recruiting staff, increase food traceability and safety while enhancing the fast food experience and offer delicious and affordable pizzas.
**Pizza market estimated at 134B€ at worldwide level and fast food industry at 900B€ (source: Xerfi)
PAZZI – Tech for Good Food
Pazzi founders have been fighting junk food for years and were keen from the beginning to use their skills to change ​ the ​ way ​ fast ​ food ​ chains ​ operate ​ by ​ increasing ​ speed ​ and ​ freshness ​ and ​ operates ​ with ​ much ​ more efficiency. Thanks ​ to ​ its ​ cutting-edge ​ technology ​ (robots, ​ vision ​ & ​ data ​ learning) ​ and ​ years ​ of ​ research, ​ Pazzi ​ has been able to implement a high quality sourcing and exceptional recipes with its chef, Thierry Graffagnino, based on organic vegetables from Italy, clean label hams, French PDO cheeses, sustainable fish and flour from Ile-de-France mills, with a combination of over 5 million recipes.
Pazzirias:
It is also the possibility of 24/7 open catering and a speed of execution of 100 pizzas per hour, allowing PAZZI to ​ be ​ an ​ optimal ​ turnkey ​ restaurant ​ solution ​ for ​ operators ​ of ​ flow ​ areas: ​ stations, ​ airports, ​ main ​ streets, ​ shopping centers, department stores or campuses.
Philippe Goldman, CEO de PAZZI
"Pazzi means "crazy" in Italian. It is in the image of our team and the crazy bet invested in ​ research ​ for ​ 6 ​ years, ​ concretized ​ in ​ particular ​ by ​ 5 ​ patents. ​ ​ ​ The ​ objective ​ is ​ now ​ to conquer ​ not ​ only ​ the ​ global ​ fast ​ food ​ market ​ estimated ​ at ​ €900 ​ billion** ​ by ​ creating ​ a European champion but also to fight junk food while meeting the structural challenges of the ​ sector. ​ Pazzi's ​ mission ​ is ​ to ​ put ​ technology ​ and ​ robotics ​ at ​ the ​ service ​ of ​ taste ​ and healthier food." ​
The ​ Singaporean ​ investment ​ fund ​ Qualgro, which ​ led ​ this ​ round, ​ testifies ​ to ​ PAZZI's ​ potential for innovation in the foodtech world:
Heang Chhor, founder of ​ Qualgro VC
«The autonomous restaurant concept offered by Pazzi is meeting a growing demand from consumers ​ across ​ the ​ world ​ for ​ fast, ​ qualitative ​ and ​ affordable ​ food ​ options. ​ Its ​ user friendly ​ digital ​ tools ​ and ​ exciting ​ robotics ​ add ​ to ​ the ​ overall ​ great ​ consumer ​ experience. We are convinced that this concept could be rapidly scaled and implemented in big cities across USA, Europe and Asia. We are very happy and proud to support the Pazzi team and their disruptive concept and technology in their international expansion »