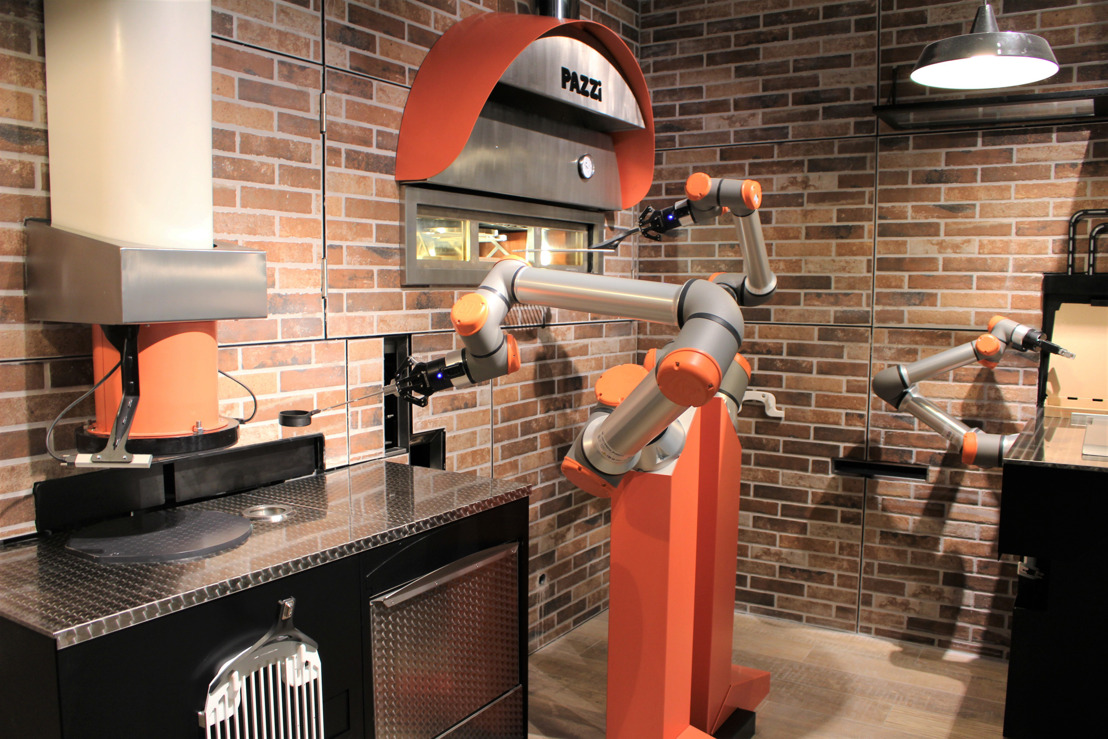 Pazzi, the world's first fully automated restaurant, opens its restaurant in Paris
Press release July 5th 2021
Paris, July 5, 2021 - Pazzi, the world's pioneer in automated food service, will be opening its first Pazziria at Beaubourg, in central Paris, on July 5th, 2021. 7 years of research and development and 5 patents later, Cyril Hamon and Sébastien Roverso are fulfilling a dream born in their garage: open the world's first robot-powered restaurant! Through this project, they aim to give everyone access to quality, affordable pizzas, available at any time, and prepared by a one-of-a-kind pizzaiolo: a robot. This fully automated restaurant puts on an unprecedented culinary show for all generations of customers. It invites them to enjoy an immersive experience in the heart of a robot restaurant. This technology is driving Pazzi's vision of "Fast-Good-Food", a combination of fast, safe, and quality food, designed to offer a unique customer experience.
Pazzi opens its first Parisian Pazziria in Beaubourg: a historic location, ready for invention
Following the success of its pilot restaurant in the Val d'Europe shopping centre in 2019, Pazzi is opening its first Parisian Pazziria in Beaubourg, opposite the Centre Pompidou in the Marais quarter. Establishing its 120sqm restaurant in the heart of contemporary French culture is an obvious choice for Pazzi, which wants to nourish as well as draw inspiration from this inventive place. This strategic and dynamic location attracts high levels of footfall. The restaurant can prepare nearly 80 pizzas per hour to be either picked up via click & collect, enjoyed on the spot, or delivered at home. ​
This opening follows the pilot project in Val d'Europe, which affirmed consumers' enthusiasm for the project and confirmed Pazzi's unique concept as a success. With the opening in Beaubourg, Pazzi establishes the first automated restaurant in Paris. It has ambitions to turn "fast-food" into "fast-good-food": affordable pizzas made with high-quality ingredients.
Set in the heart of Paris, this fully automated restaurant powered by state-of-the-art technology offers a fast and transparent service
Through opening La Pazziria in Paris, Pazzi deploys its state-of-the-art technology, the world's first pizzaïobot capable of offering a unique culinary show to families, visitors, and busy Parisians in the area. To select their pizza, customers are invited to place their order at Pazzi's self-ordering kiosks or order online via a web app. Their order is then sent to Pazzi, an AI-powered pizza-bot developed by 30 experts, engineers, and developers. The robot can do everything: knead and stretch the fresh dough, spread the sauce, add the ingredients, cook the pizza, place it in a recycled box, and slice it. What's more, Pazzi customises the quantities of ingredients as desired, identifies and corrects imperfections, and replaces them if necessary to ensure optimal preparation.
Capable of producing 1 pizza every 45 seconds and cooking 6 at a time, with a total of 5 minutes per pizza, Pazzi is a technological feat. It offers a fast service to consumers in a hurry who can watch their order being prepared right before their eyes. For orders placed via the web app, the robot places them in dedicated collection boxes where they await the customer.
The autonomous restaurant offers an entirely digitised service – from placing an order to collection. Customers can watch the progress of their orders on dedicated screens and can collect them via a collection box system equipped with a QR code.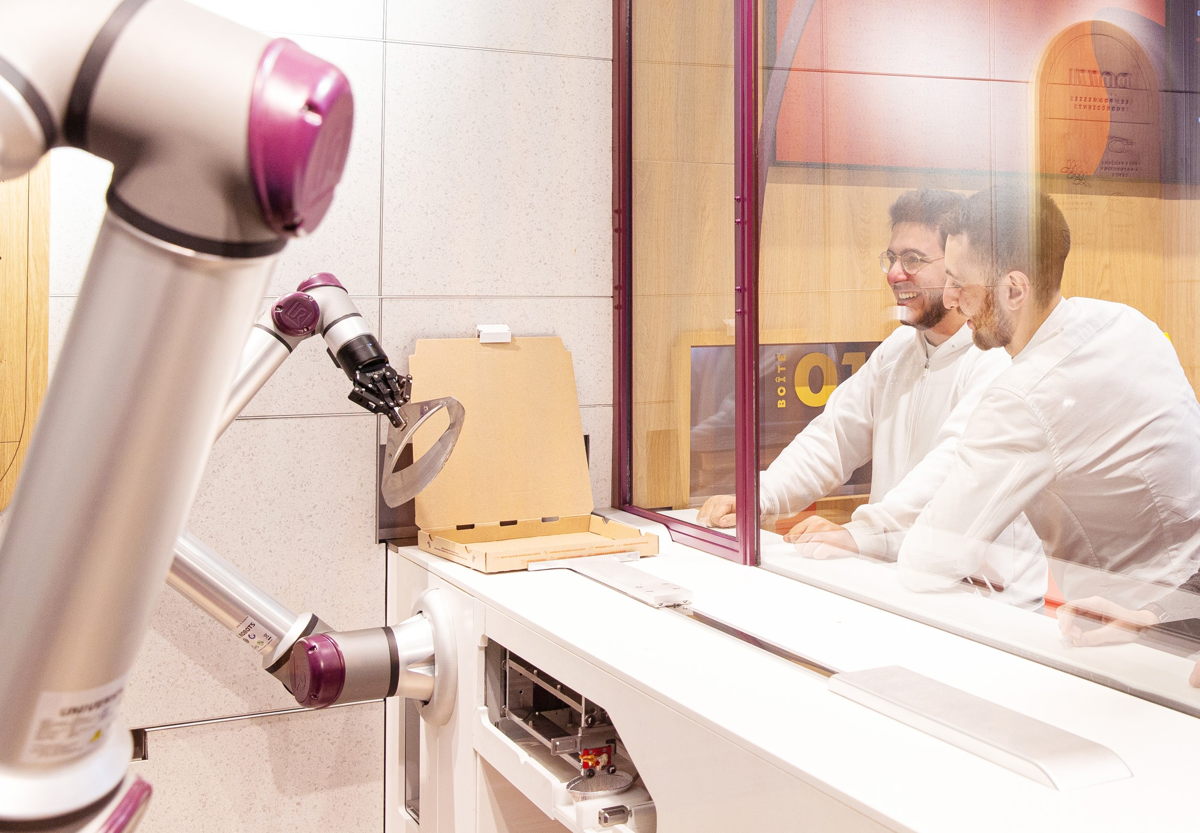 This affordable offer, packed with tasty recipes, was developed with Thierry Graffagnino, three-time World Pizza Champion
Thierry Graffagnino, triple World Pizza Champion, has worked daily with Pazzi from the start. A master of his trade, the chef has guided the inventors in developing unique recipes. Today, Pazzi identifies each piece of dough and kneads it differently depending on its maturation and degree of humidity. On questions of taste, Thierry Graffagnino puts his creativity into elaborating the flour, the dough and the gourmet recipes, which he adapts for every season.
Concerned about the quality of its pizzas, Pazzi selects its ingredients according to strict traceability and quality criteria. This applies to certified organic vegetables, and fresh dough prepared from flour custom-made by the Paul Dupuis mill in France (76). Today, 7 different labels certify the ingredients and make up the generous, gourmet pizzas.
Committed to making its offer accessible to all, Pazzi offers a range of pizzas between €7 and €14.
"When I first met Cyril and Sébastien, I told them that for me to join the adventure, the pizza dough had to be good! Today, I'm proud because we achieved this by working together. With the help of its talented and responsive teams, Pazzi offers gourmet pizzas topped with excellent ingredients, and puts on an entertaining show for families and children," explains Thierry Graffagnino, three-time World Pizza Champion.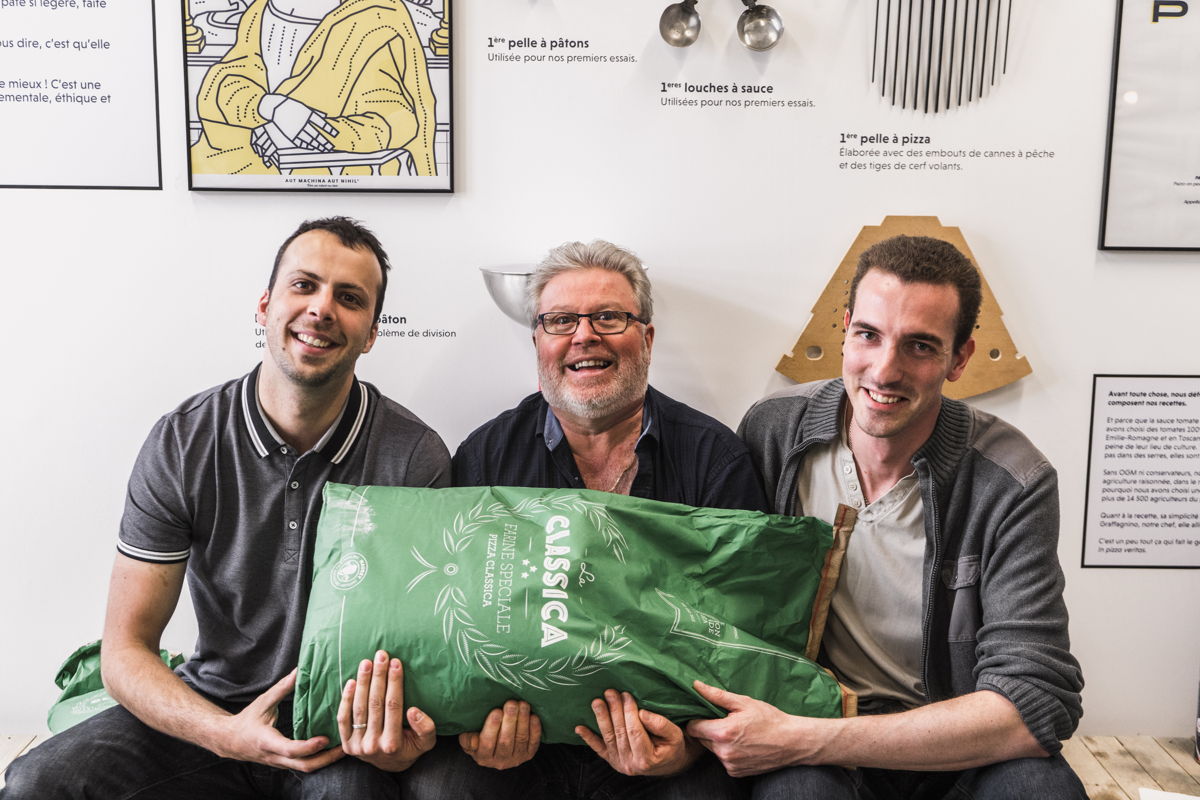 Harnessing robotics to create better, safer, and more responsible fast food
In France, nearly 60% of French people said they wanted to return to restaurants as soon as the lockdown was over1. This enthusiasm comes at a time when restaurant owners must respect strict sanitary constraints when reopening their restaurants. In parallel, there is growing consumer demand for more responsible and safer food. In this context, Pazzi wishes to offer its expertise in the service of the restaurant industry. Our ambition is to enable everyone to safely enjoy pizzas made with rigorously sourced ingredients.
This model also takes into account current environmental concerns. Aside from making sure its ingredients are sourced responsibly, Pazzi's pizza preparation process is designed to preserve water and limit waste through the use of compost. The pizzas are marketed in FSCTM-certified cardboard packaging, a label guaranteeing that the wood used comes from sustainably managed forests.
Designed to be universal, Pazzi aims to expand with two new openings in Paris by the end of 2021 and abroad, with an opening in Switzerland planned for the first quarter of 2022.
"Pazzi brings together talented engineers, developers, chefs, manufacturers, and investors. Together, we believe in fast good food, harnessing innovation to create safe food made with quality and seasonal ingredients. Opening our automated Pazziria in Paris, the world's food capital, is an achievement that confirms the success of our model in a strict sanitary context and affirms our ambition to use robotics to serve fast, transparent, and entertaining food," adds Sébastien Roverso, co-founder of Pazzi.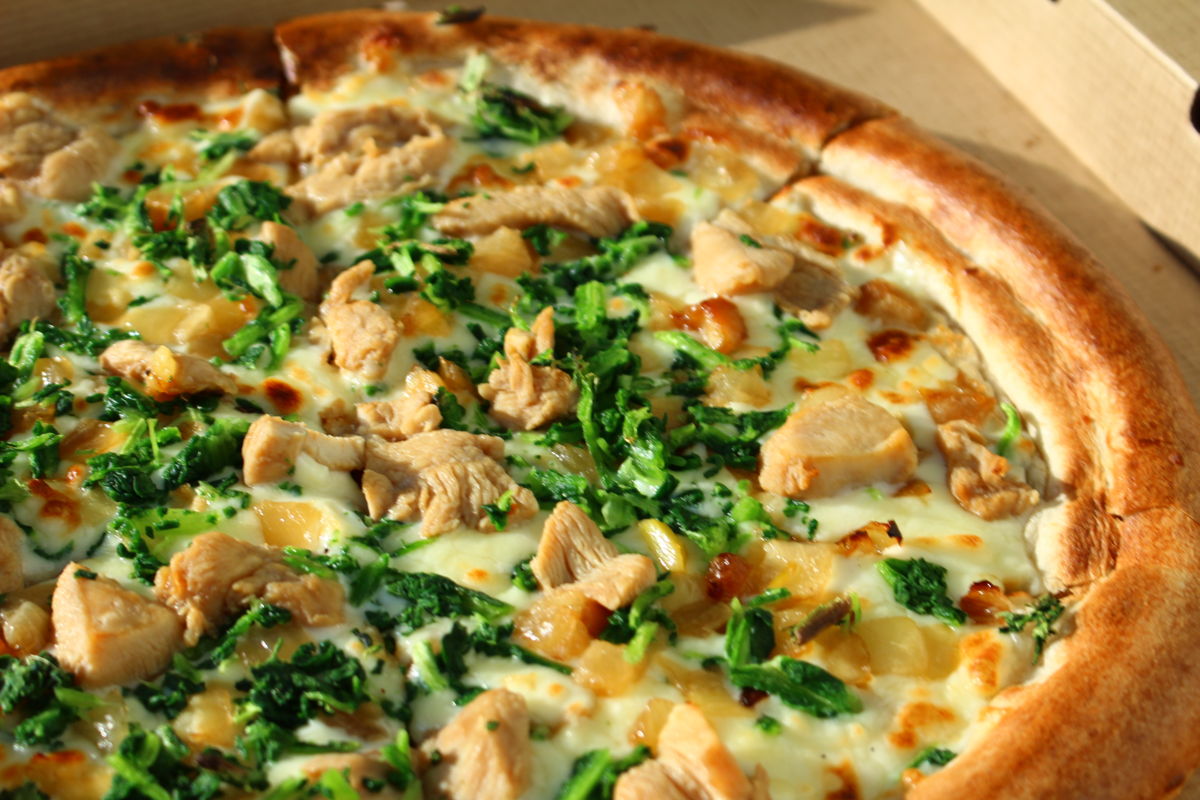 1 https://www.lesechos.fr/industrie-services/tourisme-transport/les-francais-revent-de-retourner-au-restaurant-1290209